Ladysmith Lifestyle in the Winter
Ok . . . I know . . . I know, it is a rainy day. How can I enjoy the Ladysmith lifestyle on a day like this?  You can see that from the fence at the back of my yard.   But it is a good day moderate temperature day compared to much of Canada.  And unlike most of Canada we do not have snow.  Therefore, yesterday I decided to travel around my town looking for reasons why someone would want to live here.
For most of my life I have lived on Vancouver Island.  Most winters are quite moderate.  There was almost no snow for the past three winters.  This current winter of 2016-2017 gave us more snow than average.  But it is likely that for every five or six years, there will be at least one winter cooler than others.  But still, we have it better than most every other part of Canada.  Vancouver Island is truly the Hawaii of Canada.  Our Ladysmith Lifestyle is amazing.
Ladysmith Waterfront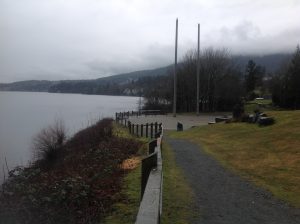 So then . . . reasons why I like the Ladysmith lifestyle.  Here are some:  The first is waterfront for all to enjoy.  I enjoy an ocean view from my home.  Many of my clients enjoy waterfront.  But for everyone, there are lots of beaches and water play areas.  Check out Transfer Beach.   This morning which was again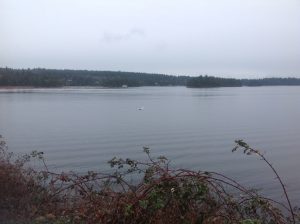 overcast, I had opportunity to walk to the beach and back home.  It was great winter time exercise.  These can be your views December through February.
But then there are also other water Ladysmith lifestyle possibilities for you.   Several of my friends own a boat.  Some choose moorage at places like the Ladysmith Maritime Society.  Some choose to keep their boat at home and launch it from time to time.  From Kayaks to Large Sailboats and Motor Yachts.  You can pick your pleasure.
Ladysmith Parks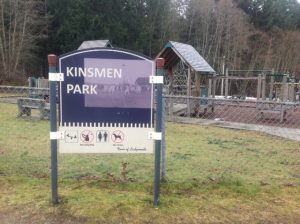 If you are not into boating . . . how about parks and hikes.  There are some great parks like the Kinsmen Park.  Take the kids if you have them.  Back several years ago,  I used to climb on the park amenities with my children.  They are grown up and gone now.  But recently the park has been upgraded for a new generation of children and parents.  This is a cool family place.
For those who want more exercise out of their Ladysmith lifestyle there is the Holland Creek Trail.  Find a trail starting place and launch out to a morning or afternoon adventure.  You can go for miles and miles.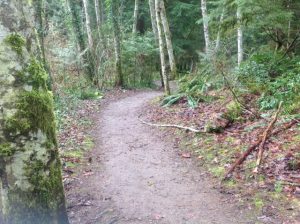 Can you see yourself on this trail?  This is a good one for taking a friend or your favourite pet.   If you are very adventurous, you can even head up to Heart Lake.  Take hiking polls or you will wish you did.
Ladysmith Amenities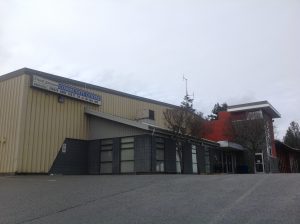 If it is too rainy or if it does happen to snow, there is still something to do.  How about the Frank Jameson Recreation Centre?  Swimming, spinning, yoga, pickleball, free weights, exercise machine and so much more.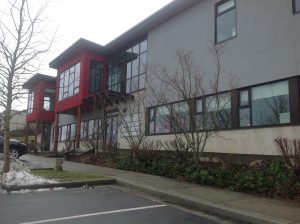 The white haired among us, might choose to go to the Seniors Centre.  This is a great place for indoor activities cards, dining, clubs and more.   Beyond that, this Ladysmith Resources Centre building offers great support for folks of many ages and needs.  It is a great town amenity.  It is a great place for volunteers.
Ladysmith Shopping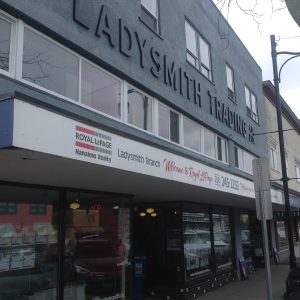 Of course, some of us are not into exercise or outdoor recreation.  For those folks, there is the Coronation Mall and the historic downtown First Avenue Business corridor.    Shopping, bakery time, a coffee shop, a restaurant or pub might be the part of the Ladysmith Lifestyle you will enjoy the most.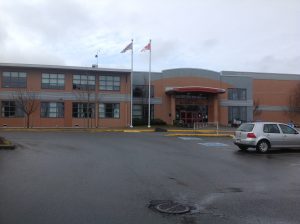 Occasionally you might want to check out the events in town.  This the Aggie Hall.  Concerts, dances, home shows and much more take place here.  Other gathering places include: The Little Theatre, the Eagles Hall, the Legion and more. You can pic your place to hang out in the late afternoons and evenings.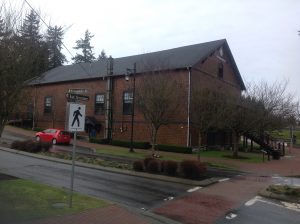 The Ladysmith lifestyle allows opportunity for all levels of education from Preschool through grade twelve.  The Vancouver Island University is up the road in Nanaimo and is hardly a 25-minute drive.  There are many great educational venues.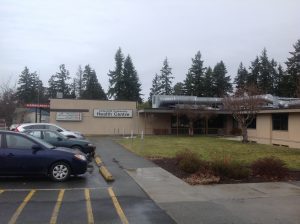 If you get enjoying the Ladysmith live with too much exuberance such that an accident happens or if time passes and you have long term health needs.  There are great amenities in the area.  Feel secure because there is the hospital clinic.  Know you can get a ride with the ambulance service.  Trust that there are greater care facilities in Duncan and Nanaimo.
So, there you go.   This is the Ladysmith lifestyle on a rainy Saturday afternoon in the middle of Winter.  Sure, it might be better to be in Mexico or Hawaii.  But if you need to be in Canada.  It is a very good option.
If you want to talk more about the Ladysmith lifestyle or if you are considering a move to Ladysmith.  Let's get in touch and find a way to help you be here.

Contact Us Today
Recent Posts