[su_heading size="16″]Ladysmith Ocean View Home at 103 Gifford Road [/su_heading]
This  great Ladysmith ocean view home needs a new owner.  Enjoy the amazing wide ocean views in this spacious 2404 Sq. Ft. half
duplex with five bedrooms and three bathrooms. It is a mere ten-   minute walk from your door to ocean front activities at Ladysmith's Transfer Beach and to shopping in Ladysmith's historic downtown.  
This home has the feel of a single family home. A quick drive past will explain why, as you see only this home fronting onto Gifford Road. The other half fronts onto an alley. The main floor treats you to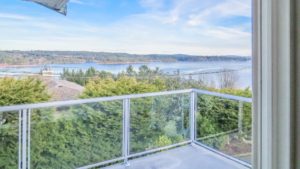 ocean views in the living room, dining room and kitchen. A master bedroom and ensuite with two more bedrooms finish the upstairs area. Downstairs you will find an in-law suite boasting two bedrooms, a second kitchen, bathroom and living room. A bonus is lots of parking including a 21'3″ by 13'11" garage and outside area for three additional parking spots.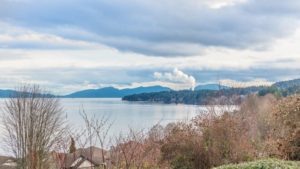 This home has three decks–two up and one down on the ocean view side. The yard has room for gardening and offers some privacy with a picket fence. Heat pumps are located up and down. Quick occupancy is possible. Call Lorne Gait at 250-618-0680 of more information or a viewing today.
A video Tour of the home . . .
Pictures of the Home and View . . .
If you want to find your way to this property, here is a map from Nanaimo Airport to this beautiful  Ladysmith Ocean View Home  . . .
Guiding you home . . .  to an ocean view home at 103 Gifford Road, Ladysmith, BC Home . . .
Lorne Gait and Morgan Fisher are professional realtors who can help you find your Vancouver Island Waterfront or Waterview  home. To start the conversation follow this link — Get in touch.
Contact Us Today
Recent Posts